web services
Aug 1, 2023
0
---
You can get your website indexed faster by just submitting your URL(s) to Google?
There is no need to wait for them to crawl your website again and find your new page!
Especially if you're a smaller site…
…that can take weeks!
So I am going to show you how to submit your URL to Google for near-instant indexing.
How To Submit Your URL To Google
It's not as hard as you think…
There are two ways to submit URLs to Google.
You can either:
Request a crawl
Submit your website's sitemap
Requesting a crawl is used to ask Google to manually crawl a single page on your website. However submitting a sitemap shows Google a list of every page on your website for crawling.
Which one should you use?
Both.
Why?
They both have different benefits, as you will see below.
1. Request A Crawl
Let's say:

You have just spent hours creating a new page.
It is very informative and adds tons of value to readers.
You are super excited to publish it.
You want Google to index this new page as soon as possible.
The moment you publish that page:
Head over to Google Search Console and request a crawl.
Usually, within hours Google has crawled the new content, and it has been indexed.
Easy, right?
How To Request a Crawl From Google
To request a crawl from Google:
1. Log in to Google Search Console.
2. On the left side of the page in the menu, click URL Inspection.
3. Copy and paste in the URL and hit enter.
4. Finally, click Request Indexing.
Google will get to work and crawl the page.
Within a few hours, that page should be added to your index.
To make things better:
Requesting Google to crawl a URL is not only when you create new pages. You can use this tool whenever you make changes to any page on your site.
This gets Google to crawl the page again and find the changes you just made.
For example, if you add FAQ Schema to your pages, you would want to use this process to crawl those pages so Google processes those changes sooner rather than later.
(Don't forget to test your schema with a schema tester).
How Often Should Your Request A Crawl?
There isn't a hard and fast rule for how often you should request a crawl.
You want Google to know every time you:

Add a new page
Update a page
Optimise a page
Fix any issues
In fact-
Google themselves wants you to notify them when you make changes. They always want the latest version of your website.
So it's your job to make sure they notice.
In other words: Submit your URL(s) to Google whenever you make any changes to a current page or add a new one.
2. Submit An XML Sitemap
Submitting a sitemap to Google is like handing them a list of your website's URLs on a platter.
Let me explain:
The sitemap compiles your website into a single XML file usually called sitemap.xml which we can then submit to Google for crawling.
Unlike with the "request a crawl" method, you don't have to manually go through and submit each URL individually.
With the XML sitemap method: you submit every URL in one go.
How To Find Your XML Sitemap?
(If you already have access to your sitemap, you can skip this section.)
Before you submit your XML sitemap, you need to make sure you have one and know where to find it.
Whether you know it or not your website probably has an XML sitemap. There are two simple ways to find out if your website has an XML sitemap or not.
Method 1:
Try typing your domain into a web browser and add the following endings:

/sitemap
/sitemap.xml
/sitemap_index.xml
For example: https://www.searchlogistics.com/sitemap_index.xml
Try each of these endings on the end of your domain. In most cases- one of them will work.
Method 2:
If method 1 didn't work, you can use this free tool to find it for you.
1. Go to SEO Site Checkup.
2. Type in your domain and click Checkup.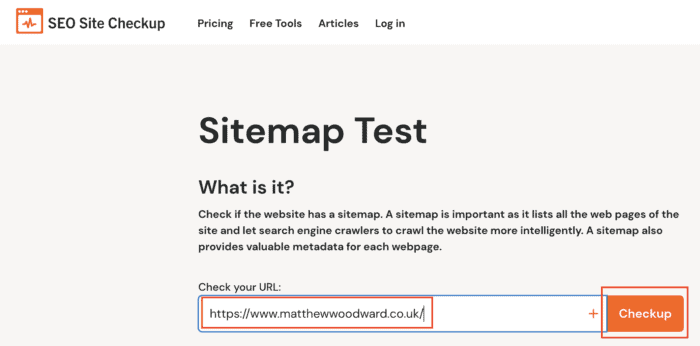 It will take a few minutes to go through your website. If there is a sitemap, it will display it on the report.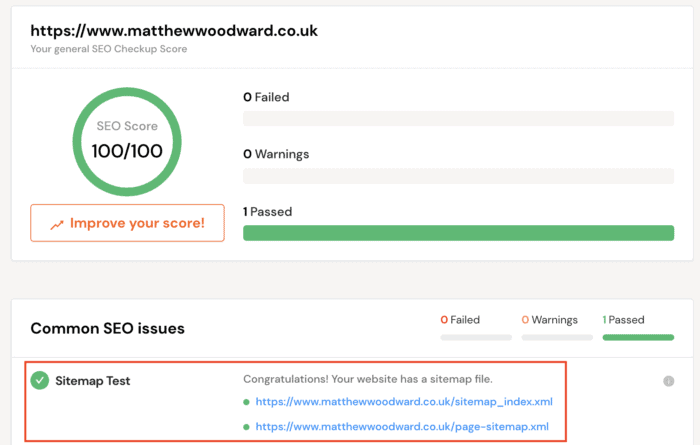 What happens if you don't have an XML sitemap?
If after trying both of these methods, you still can't find your sitemap – you will need to create one.
Unfortunately, WordPress doesn't create its own sitemaps automatically. You need to use a plugin to do the work.
You can use RankMath which is, in my opinion, the best SEO plugin for WordPress. It will create a sitemap for you which you can submit to Google.

Take a look at my full Rank Math review to learn more about what else it can do for you.
If you don't want a full blown SEO plugin you can use a plugin like Google XML Sitemaps which is a sitemap only plugin.
Both plugins are free to use.
How To Submit a Sitemap?
Log in to Google Search Console. On the left side of the page in the menu, click Sitemaps
Enter your website's Sitemap URL and Click submit.
If the sitemap was submitted correctly, you should see a "Success" message:

Note: Submitting your site/URLs to Google is free and easy, so don't get caught in the trap of SEO submission software. They just are a waste of money.
How Often Should You Submit Your Sitemap?
Quick Answer: Once
Google will automatically visit your sitemap to discover new and updated pages periodically.
The database is made up of over 60,000 spammy sites you absolutely do not want a link from.
Why You Should Index Your URLs On Google
If you're wondering why indexing you URLs is so important…
Don't go anywhere because below, I'm going to show you all the benefits it can bring you.
Indexing Your Pages Gets You Ranked in Google's SERPs
I'll be straight with you:
Not many people are actively scouring the internet for YOUR website specifically.
It's your job to help as many people as possible find your content.
That's the whole point of SEO, am I right? (See "What Is SEO" if you're not sure)
Unless your pages are indexed- No ONE will be able to find them.
In other words, if you:

Add a new page
Update an old page
Optimise your website
Fix any site issues
Make a small optimisation on a page
Tell Google.
Google will notice the changes you make and could give you bump in the SERP's.
Indexing Your URLs Will Save You Precious Time
Consider this for a moment:
You write a new blog post and publish it on your website- without bothering to submit the URL to Google.
3 weeks later, you notice that Google finally recrawled your website and indexed the new blog post which means that it is now visible to anyone (in theory).
That's a massive waste of time. Especially when you could have just:

Published the blog posted
Submitted the URL to Google
Indexing your URLs will allow you to reap the benefits far quicker than waiting for Google to notice on their own.
Are You Using Blacklisted Backlinks?
Indexing Your Pages Gives You Control
Google has a mind of its own.
Having control of what pages of your site are indexed is good for you AND Google.
Why?
Google's goal is to provide a good user experience for their users by helping them find what they are looking for.
By requesting an index, you are telling Google that this content is good for the user…
…and just like you can index content with Google Search Console, you can also remove it:
So make sure that you use indexing tools responsibly so that Google is only indexing the content you want to appear in search results.
Warning: Submitting URLs To Google Is Supposed To Be Free
If your agency is charging you to submit URL's to Google, you are getting ripped off for a couple of reasons.
Firstly I have just shown you how easy it is to index new content using sitemaps and Google's own free tools.
But secondly:
Getting a site or content indexed is not guaranteed. No one can make Google index a website or even a page, for that matter.
It makes that decision for itself.
Google has a range of complex metrics it uses to ensure the quality of its search index.
If your page doesn't meet that standard…
…Google won't index it.
Even if you pay someone to index your website, there is no guarantee they will be able to do it.
The only time you should pay someone to index content is when it is content on a domain that you do not own.
If that is the case, you won't have access to Google Search Console so you will need to use a backlink indexer or something similar.
Wrapping It Up
Want your new and update content to rank faster?
Submit your URLs to Google.
Doing it yourself means:

Faster rankings
It saves you time
And gives you more control
Get started by submitting your sitemap in Google Search Console now.
Then every time you publish a new piece of content or update an existing piece of content, use the inspection tool to notify Google instantly.
You can also look at my Rank Math review which integrates with Googles indexing API directly to make everything completely hands-off.
Frequently Asked Questions
To submit your sitemap to Google, just follow these instructions:
Log in to Google Search Console
Select the right property
Click "Sitemaps" on the left menu
Paste in your sitemap URL
Click "Submit"